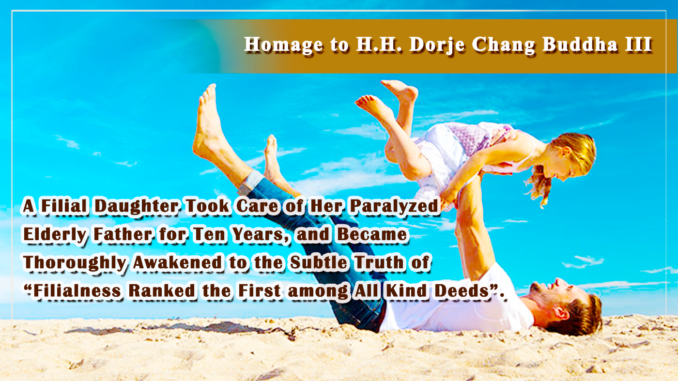 A few days ago, Qingmian's father passed away.
When it was late at night and everything was silent, she would always toss and turn on the bed, with all kinds of feelings in mind. Ten years ago, Qingmian's father had suddenly suffered from cerebral infarction. Since then, the warm and pleasant life of Qingmian's family came to a halt. Qingmian witnessed with her own eyes how her father's body figure changed from tall, broad, and upright to totally skinny, and his temperament turned from warm and cheerful to silent and peculiar. Once a PE teacher, he now had to rely on others for everything in life. Being a strong-willed and determined person, he almost collapsed mentally. The situation turned particularly worse after he became incontinent. He had mood swings, and he became grumpy and would act up without reasons.
If her father's situation is called suffering in hell, then Qingmian's taking the responsibility of attending him would be staying in a sea of fire. Seeing her beloved father in suffering, pain ripped through her heart. On the other hand, spending all her time taking care of a person with such illness strained her out mentally and physically.
One day, Qingmian and her mother cooked quite a few dishes. However, right after the food was placed onto the dining table, her father became offended by some casual and harmless words in the conversation and suddenly became furious.
"Why should I have a daughter like you? You are not filial at all! Do you look down on me because I am ill, and you don't want to take care of me? Both you and your mother just get lost!"
"What happened, father? There is nothing I complain about you. Is this because the food does not suit your taste?" Qingmian put up a smile and asked cautiously.
"I don't want to eat!" Then, with the smashing sounds, all food dishes were thrown to the ground.
Such incidents of "blaming for nothing" occurred very often. When the father had an outburst, he would even beat up Qingmian and her mother with his stick, causing bruises all over their bodies. "Your illness was not caused by me. Why do you treat me like that?" Life like this gradually brought Qingmian down.
At that time, Qingmian was under tremendous financial pressure. Her father's mood was unstable, her child was less than one year old, and her husband was working far away from home most of the time. There was a period of time when her mother was also ill and had to be hospitalized. She stuck it up all by herself and became even more worn out. Neighbors all admired that Qingmian's father had a good daughter who did not mind doing anything regardless of whether it is dirty or a lot of work. Actually, Qingmian just had to keep all the bitterness in heart, but she still had to keep going while biting her teeth to endure. All was due to the fact that she happened to have a paralyzed father.
However, in late night when all had quieted down, she felt like being a helpless mariner in the bitter sea under the cover of the dark night not seeing any lighthouse. For quite a few times, she thought about giving up taking care of her paralyzed father. On an occasional karmic condition, Qingmian was told by a layperson who was learning from the Buddha that many problems can be resolved through learning from the Buddha.
While Qingmian was still having doubt about that, she met a Buddhist brother during an activity of releasing living beings in captivity, who told Qingmian many explanations about the truth of impermanence in human life. Qingmian noticed that as a disabled person who had been badly burned in a fire, the Buddhist brother still worked so actively to lead the life-releasing activity and was able to explain the truth of the Buddha Dharma very clearly.  Qingmian respected and admired him very much. As a result, she decided to go to the Buddhist center run by this Buddhist brother.
On the first day of her listening to the Dharma at the Buddhist center, Qingmian was already deeply moved by the warmth from the Buddhist brothers and sisters. She felt the warmth and loving care that she had not experienced for the last several years. The Dharma imparted by Namo H.H. Dorje Chang Buddha III that uses simple language to penetrate the profound truth was moisturizing her almost dried-out heart like rain and dew. While weeping with teary eyes, Qingmian seemed to have untied the knot that had been in her heart for quite a few years.
"All matters and all phenomena are based on causality. This physical body of ours is a body to experience karmic retributions. Whether you are enjoying a good life or experiencing a bad life, you are simply paying back the karmic consequences since the beginningless eons."
Under the tireless guidance of the fellow Buddhist brothers and sisters, Qingmian gradually understood the karmic affinity between her father and her. Without karmic debt created in the past, there would be no encounter or companionship in the current lifetime. It doesn't matter whether she is returning the kindness or repaying back the debt. She should just accept the reality and resolve this karmic affinity willingly. Only by doing so can she step toward the eventual liberation.
"A human life is extremely difficult to get. For any day that I am living through, I must treat all living beings with kindness to broadly create good karmic conditions. Within my family, I must even more so fulfill my responsibility and duty as a child, a mother, and a wife. My father gave me care and love in the past due to our karmic affinity. Now he is ill and needs my care. That is our karmic affinity, too. These are all conditions and opportunities for my cultivation. I need to face the situation directly." This was how Qingmian thought, and what she did.
After the change in her state of mind, her conduct also changed accordingly. Then, karmic conditions for success also came along. In October 2016, Qingmian took refuge in the Three Jewels and became a Buddhist disciple. Very fortunately, she also attained the Dharma Assembly to Receive the Empowerment by the Greatly Compassionate Avalokiteshvara Bodhisattva. The absolutely true empowerment from the Buddha Dharma that she experienced deeply even more so enhanced her confidence toward the Buddha Dharma. She seemed to have changed into a different person and began a new life.
From then on, Qingmian got rid of the emotions of sadness, sorrow, and bitterness. Gradually, the bitter expression on her face changed into joy. In the past, she regarded what she did in cooking, feeding, body cleaning, and fulfilling filial duty as a necessity out of having no other choice.  At the end, she was filled with complaints. Now, she took taking care of her father as an opportunity to cultivate filial ways, gratitude, loving compassion, and forbearance.
When she was walking in light steps to push her father in a wheelchair for sun-bathing and sight-seeing, she felt the smooth wind touching her face and the warmth of sunlight. While she was humming Buddhist music and happily fanning for cooling for her father, wiping his back, cooking, and feeding him, her mind was full of intimate family feeling with abundant patience. Her state of mind brought her enjoyment. Her father's eyes were revealing gratification. Though being busy, she was delightful! Other than taking care of her father, she actively attended the group sessions of listening to the Dharma scheduled twice a week. She also joined the teams of volunteers doing life-releasing and life-protecting work. Every month, she went to nursing homes to deliver roses to benefit others. She was benefited the most from doing all these. She was able to feel the meaning and value of life. She also dedicated all the merit attained from her listening to the Dharma, chanting Sutras, releasing living beings in captivity, lamp offering, and attaining Dharma assemblies to her father and other members of her family.
Whenever there was an opportunity, she shared the principles of the Buddha Dharma with her family members. Due to the change in Qingmian, her father's temperament was much improved. His impulsive mood was slowly pacified. The home once again was having happiness and joyful conversations after a long dry spell of such things.
Human life is impermanent after all. In the spring of 2020, the death still took away her father after his paralysis for 10 years. However, he passed away in peace and tranquility. He left with a smile due to the filial care by his daughter. People often say that a parent constrained in a sickbed for long will have no filial children. Yet Qingmian told everyone with her own personal experience that a father, ill-stricken for 10 years could still have a filial daughter. Before learning from the Buddha, Qingmian's filial acts might have been mixed with bitterness. After beginning to learn from the H.H. Dorje Chang Buddha III; however, Qingmian regarded taking care of her father as an inherent act of a child and a challenging situation to cultivate herself.
Love, compassion, sympathetic joy, and generosity without attachment are not only for one's thought and speech, but even more so for carrying out in actions. The cultivation of that is to start from dealing with one's family members and apply that into every bit of one's life. "Filialness ranks first among all deeds of kindness." One who does not fulfill filial duty well has nothing to speak of with regard to learning from H.H. Dorje Chang Buddha III .
Homage to H.H. Dorje Chang Buddha III-A Filial Daughter Took Care of Her Paralyzed Elderly Father for Ten Years, and Became Thoroughly Awakened to the Subtle Truth of "Filialness Ranked the First among All Kind Deeds".
Link: https://dharma-hhdorjechangbuddhaiii.org/homage-to-h-h-dorje-chang-buddha-iii-a-filial-daughter-took-care-of-her-paralyzed-elderly-father-for-ten-years-and-became-thoroughly-awakened-to-the-subtle-truth-of-filialness-ranked-the-fi/
#DorjeChangBuddhaIII #HHDorjeChangBuddhaIII #DorjeChangBuddha 
#MasterWanKoYee   #FilialDaughter #Cultivation #ParalyzedFather 
(Visited 402 times, 1 visits today)