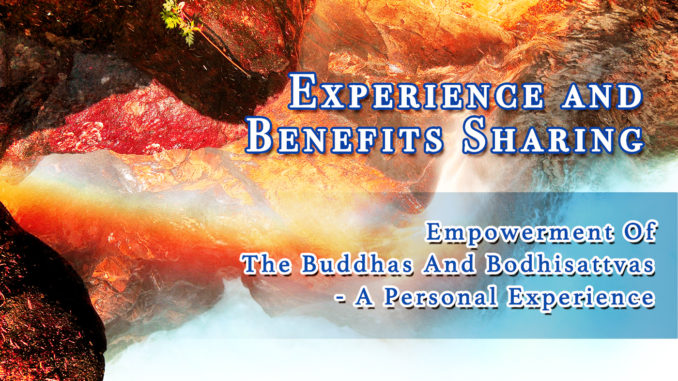 Writing articles has never being an easy task for me, the challenge only compounded when it comes to speaking from the heart and the impact the Buddha dharma has had on my life since I embarked on the journey of learning Buddhism.
I have the great fortune to have the opportunity to respectfully listen to the Dharma Discourses expounded by H.H. Dorje Chang Buddha III on a frequent basis. The Buddha repeatedly reminds me that a Buddhist cultivator must resolutely and clearly believe in the laws of cause and effect and be mindful of constantly improve our speech, thoughts and actions.   I planted these teaching deep in my heart. In daily life, I am constantly mindful of my speech, thoughts and action during social interactions and how I manage affairs. And often contemplate and rectify my short comings.   As a result, I become less agitated and my worries and troubling thoughts have reduced.   Things that used to mire me in worry and despair, I can now wave them away with a chuckle. Individuals, whom used to cause me unpleasantness, no longer impose such an unwelcome impression. Just when I commended myself about the improvement, something happened that almost obliterated my clam and peaceful state of mind.
About half a year ago, when a good friend of mine ran into difficulties, I did all I could to help him as a friend. However, things sometimes have minds of their own, not only the results were not as expected, but it roused dissatisfaction and misunderstanding from my friend.   He twisted my pure intention and accused me of purposeful deceit, and even threatened me with legal recourse. Other friends were well aware of my honest intention and supported me with their heart, but they could not tangibly help me in any way. I found myself between a rock and a hard place. I have never found myself in such a precarious situation.   I can honestly say I did nothing wrong, but things were careening down a narrow one way street with no room for maneuvering. I did not know how to face the situation calm and collected. In deep despair facing this seemingly helpless troubling situation, the only thing that I could do was to go to Hua Zang Si and confess to the Buddhas and Bodhisattvas everything and to beseech blessing.
Walking in Hua Zang Si that day, I felt depressed and helpless beyond words. I even felt that I could not breathe. After I paid my homage, I joined my palms and knelt down in front of Buddhas and Bodhisattvas and started to report the entire situation. Then what happened next was something that I shall remembered for the rest of my life. After only three to four sentences, my complex despondence suddenly lifted and my heart became unbelievable calm. It was as if an ominous grey sky suddenly transformed into vast limitless blue sky. This very situation regarded as even more serious as "the sky is falling" just a few seconds ago, suddenly no longer had any effect on me. I felt an indescribable calm and peace that I have never experienced before; it was as if I had been transported to Shari-la. I felt complete ease and tranquility.
I immediately registered this sudden change of my state of mind, tears rushed down my face before I even knew it. I finally felt the empowerment of the Buddhas and Bodhisattvas, something I have yearned for a very long time. From that day forward, nothing fazed me again, I could completely let go of anything. Awhile later the situation with my friend ran its course and resolved in a positive manner. Once again, I want to express sincere gratitude to the Buddhas and Bodhisattvas.
As consequence of this experience now whatever thrown my way, I may feel misunderstood or sad, but I never have even a slight hint of hatred. I could forbear and never put blame on anyone. Reflecting upon it, I am grateful for such an opportunity, because ever since this situation I am able to face anything in my life constructively with rectitude.
This self- transformation could only become possible when I began to learn Buddhism, I understand the laws of cause and effect never errs. Everything that we experience in this life is simply what we have done in the past coming to roost. Whatever happens, do not let it affects us, and definitely there is no need to complain about it. Instead, do our best to pay back the debt and dissolve all the negative karmic causes that we have planted since time immemorial.
From this moment forward, we should faithfully follow the teachings of Buddhas and Bodhisattvas; abide by precepts without deviation, and to correct any imperfection of our speech, thoughts and actions little by little but persistently. As long as we stay on this course persistently, it is unequivocal that Buddhas and Bodhisattvas will confer empowerment upon us, and such empowerment is without bound.
I just want to share this very experience with my fellow cultivators and let it serve as a mutual encouragement. The path of learning Buddhism is long and arduous. We will face challenges and calamities. But as long our goal is clear and correct and we are resolved to reach that goal, as long as we can persist and forebear insult, we will be able to pacify all difficulties and obstacles and be on our way to the brilliant path of enlightenment.
From the bottom of my heart I wish all the cultivators be persistent and plant good karmic causes and elevate ourselves to a higher level in our pursuit of learning Buddhism and may all of us realize Bodhi. Amitabha!
by Qiu Hui Yu, a Buddhist disciple of H.H. Dorje Chang Buddha III
Empowerment Of The Buddhas And Bodhisattvas -A Personal Experience
Link: https://dharma-hhdorjechangbuddhaiii.org/empowerment-buddhas-bodhisattvas-personal-experience/
#HHDorjeChangBuddhaIII #DorjeChangBuddhaIII #DorjeChangBuddha#Buddha #Dharma #Sharing #benefit #Buddhism
(Visited 991 times, 1 visits today)