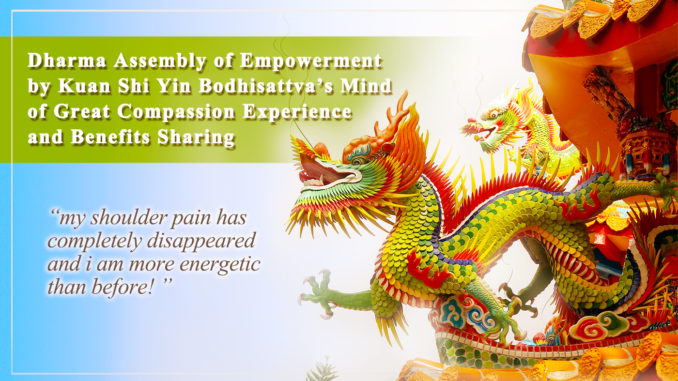 (Report No. 8)
In September this year, I had the good fortune to attend the Dharma Assembly of Empowerment by Guan Shi Yin Bodhisattva's Great Compassion and received great empowerment from Guan Shi Yin Bodhisattva. The effect was very magnificent. I take this opportunity to share my experience and feelings at that time with my fellow cultivators.
At the beginning of the dharma assembly, I was a little nervous. I closed my eyes and raised my arms to the horizontal position. I bent my legs slightly. A short while later, I heard the hearty laughter from some people. I wanted very much to know who received the empowerment from Guan Shi Yin Bodhisattva so quickly, but I dared not open my eyes.
I firmly remembered what the presiding master told us and did my best to keep my mind calm and focused. Suddenly, a strong heat flow went from my right shoulder to the left shoulder. My hands then began waving spontaneously to the left and right. I felt heat emitting from my body. Next, I opened my voice to cry and shout. My hand-waving and crying lasted for a while and then gradually came to a stop. At this time, my body felt hot and sweated. I felt rather tired and so sat down on the ground.
After resting for a while, I stood up with my eyes still closed. I raised my arms again. At this time, I heard someone singing. The voice of singing came closer from far away and in a short while was behind me. Ah, I heard clearly that the song was the Six Character Great Bright Mantra. The ear-pleasing singing changed from the solo singing at the beginning to a chorus with many people. Eventually I heard that the wonderfully pleasant singing also came from the space. I felt that the Bodhisattva was empowering us from the space. I naturally joined the singing. Tears unintentionally flew down from my eyes. That was my gratitude to the kindness received! Meanwhile, my legs started to tremble and my hands were waving again. However, the movement this time was somewhat different from what I did earlier and was like dancing along with the pleasant singing. At that time, my mood was joyful and delighted and my body was very relaxed. In this manner, my hands were waving continuously until the dharma master announced, "Stop."
After the dharma assembly concluded perfectly, the relaxed and pleasant feeling remained in my mind. I am extremely grateful!
After the dharma assembly, I have two beneficial effects from the empowerment. The first is that my shoulder pain has completely disappeared! Shoulder pain was an old illness that plagued me for many years. The second is that I am now much more energetic than before! In the past, when I was practicing the dharma or reading respectfully Buddhist books, I would feel sleepy after half an hour. I am now much more energetic and will not dose off even after two hours.
I am extremely grateful to the good fortune of attending such a magnificent dharma assembly this time!
I prostrate to H.H. Dorje Chang Buddha III!
I prostrate to the greatly loving and greatly compassionate Guan Shi Yin Bodhisattva!
Humble Disciple: Hua Yan (Chen, Shuyan)
Dharma Assembly of Empowerment by Guan Shi Yin Bodhisattva's Mind of Great Compassion ——Note Written Afterwards to Describe the Most Magnificent Scene at the Site
Link: https://dharma-hhdorjechangbuddhaiii.org/dharma-assembly-empowerment-guan-shi-yin-bodhisattvas-mind-great-compassion-note-written-afterwards-describe-magnificent-scene-site/
#HHDorjeChangBuddhaIII #DorjeChangBuddha #Buddha #Bodhisattva #Dharma  #Buddhism #Empowerment #Tathagatha #KuanShiYinBodhisattva #HuaZangSi #Chanting #Mantra #pain
(Visited 4,161 times, 1 visits today)