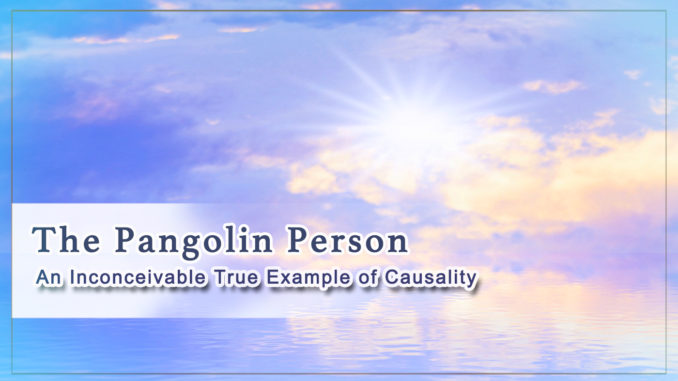 Editor's Note:
On April 7, 1982, Writer Bo Yang was invited by the Malaysian Chinese Association to give a speech in Kuala Lumpur. After that, Mr. Zhou Baoyuan and Mr. Wu Zhongda, the president and editor-in-chief of the local newspaper "New Life Daily" told him this true story and the misfortune suffered by the story's main character Ms. Zhang Simei. After returning to Taiwan, Mr. Bo Yang wrote a featured report entitled " The Pangolin Person," which was published in two parts on the July 12 and 13 editions of "China Times" of the same year.
The original article is rather long. The following is a shortened version based on the key descriptions.
An Inconceivable True Example of Causality
The Pangolin Person
One day in 1948, at Tampin Village in Negeri Sembilan State of Malaysia, a peasant in poverty, Mr. Zhang Qiutan was farming his small orchard. He spotted a pangolin. The pangolin ran into a small cave when he was trying to catch it. His three boys also came. They shouted and yelled, but had no way to get it out. Then, his wife Peng Xian who was 39 years old and was 4 months pregnant at that time also joined the hunting. They burned firewood at the entrance of the cave, hoping the smoke would drive it out. However, after being busy for a long time, they never saw the pangolin again. The whole family returned home very much disappointed.
Five months later, Ms. Peng Xian gave birth to a frightening baby girl looking like a pangolin, who is the main character I am going to describe. The mother was awakened by the terrifying yelling of the midwife. She immediately fainted on her bed upon her first look at the baby. After waking up, she held the baby while her rain-like tears were washing over the baby's scales covering the whole body. She realized that she had not given birth to a baby girl, but rather a monster.
The monster's arrival greatly disturbed the people living in the mountain area. The ugly pangolin-like appearance caught the attention of the whole village. All immediately fell into the siege of fear. They thought that she would bring disaster to the entire village. They acted insanely and asked the Zhang's family to hand over the monster. Mr. Zhang Qiutan and his wife, of course, knew the consequence of giving the baby to them. Thus, they falsely claimed to people that the baby had died and hid her in a very small room at home. (She was given the name of Zhang Simei by her parents.) The baby lived a life of being confined in a dark corner without daylight since her birth. Her parents were always in tears but were unable to do anything. They had no way or money to treat the strange illness she had.
When Ms. Zhang Simei was ten years old, her father left the world. According to his wife, he died in great suffering. Looking at his daughter who was crouching before the bed like a rolled-up pangolin and with dense sputum filling up his throat, he yelled, "Child, will you die with me together? I cannot die without concerns by leaving you behind in the world."
Although the secure hiding kept the villagers from inquiring further, people still had suspicions.
During this period, there was a circus performing group coming over to offer a very high price of more than 150 ounces of gold to buy the child. The mother resolutely declined, telling them that the monster had really died.
That was how Ms. Zhang Simei led such a secluded life for more than 30 years. Eventually, she was accidentally discovered by people in March 1982. What happened more than 30 years ago came back to the world like a nightmare. Fortunately, due to the improved mental intelligence and the elevation of people's knowledge and education, she was permitted to live in an environment filled with sympathy. That was exactly the reason why Mr. Zhou Baoyuan, the president of "New Life Daily," insisted on having me to stay one more day to have a look at this pitiful dragon lady who shares a common lineage with us.
I am unable to describe Ms. Zhang Simei's appearance. If I have to, I will agree to the appellation used by the residents of Tampin Village in Negeri Sembilan State, the "Pangolin Person." Her head is completely bald without any hair. Her eyes face upward by an angle of 50 degrees. Her nose caves down and her lips were protruding. Her teeth are in disarray like tablets standing in a graveyard and her front tooth looks like an elephant tusk, penetrating through her protruding lip. Her entire body was covered by scales, rendering a shivering feeling to people. It was even more horrible to see that her eyes had no eye lids and were like that of a fish. The two eye balls appeared staring, surrounded by two rims that were like red-hot iron.
The "New Life Daily" newspaper once invited an expert of dermatology to provide a diagnosis on her. The conclusion was no medicine could cure her.
This occurrence gives people a shocking awakening. The retribution of crucifying and harming living beings is very horrible. I advise everyone to take this understanding as a precept, protect and love living beings, and actively do good deeds to accumulate merit. Only then can one have good health, happiness, joy, and auspiciousness!
The above content is only the understanding and views of the writer as a result of learning Buddhism. We should, however, rely on the Dharma expounded by the Buddha as the standard.
May all living beings in the world believe in Causality.
Practice compassion and commit to no killing
May they experience health, peace, and happiness!
An Inconceivable True Example of Causality–The Pangolin Person
Link: https://dharmafromhhdorjechangbuddhaiii.wordpress.com/?p=195
#Causality #Pangolin #Buddhism
(Visited 4,152 times, 1 visits today)