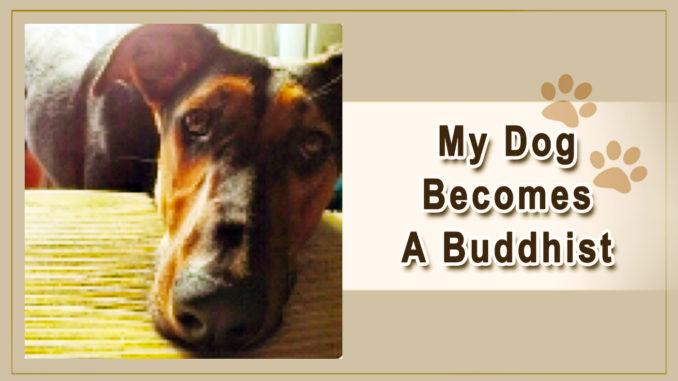 My Dog Becomes a Buddhist
Hua Zang Si is a temple in the United States that propagates the dharma of H.H. Dorje Chang Buddha III. I have been a disciple at Hua Zang Si since I was in middle school. As a young adult, I gained valuable wisdom and experience attending temple with my family. The blessings I have received are innumerable and I am always grateful for everything I learn from the true Buddha dharma.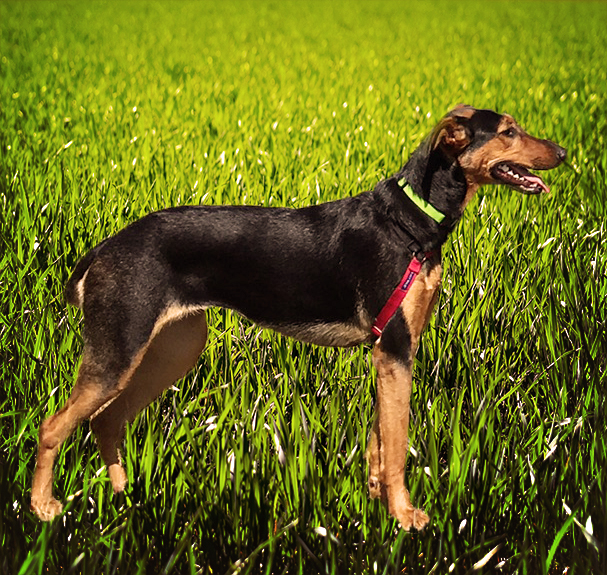 On Saturday, May 6, 2017, my dog was able to take refuge with Hua Zang Si temple in San Francisco under Qupei Rinpoche after attending a one hour fish release dharma assembly. I adopted Pansy, in October 2016 from the San Francisco SPCA Mission branch. Pansy is now two and a half years old, but still very boisterous and energetic like a puppy. She is very playful and likes to jump on people. She also barks and runs a lot when there are many people and dogs around her and she wants their attention on her. I was worried about Pansy taking refuge during the fish release because she is often very vocal and difficult to control in crowds.
As the fish release dharma assembly began, being near five other dogs in attendance should have driven her into a frenzy, yet she remained calm and simply paced around. Pansy only barked two times during the whole ceremony. It was a shock to me that she was not barking and crying nonstop the whole time. When the master came over to bless Pansy with holy water, she sat still and regarded everything with a calm disposition. She didn't bark at Qupei Rinpoche or jump on her. She was very well behaved. As I went down to the dock to release fish, Pansy sat down next to my mom and waited patiently for me to return.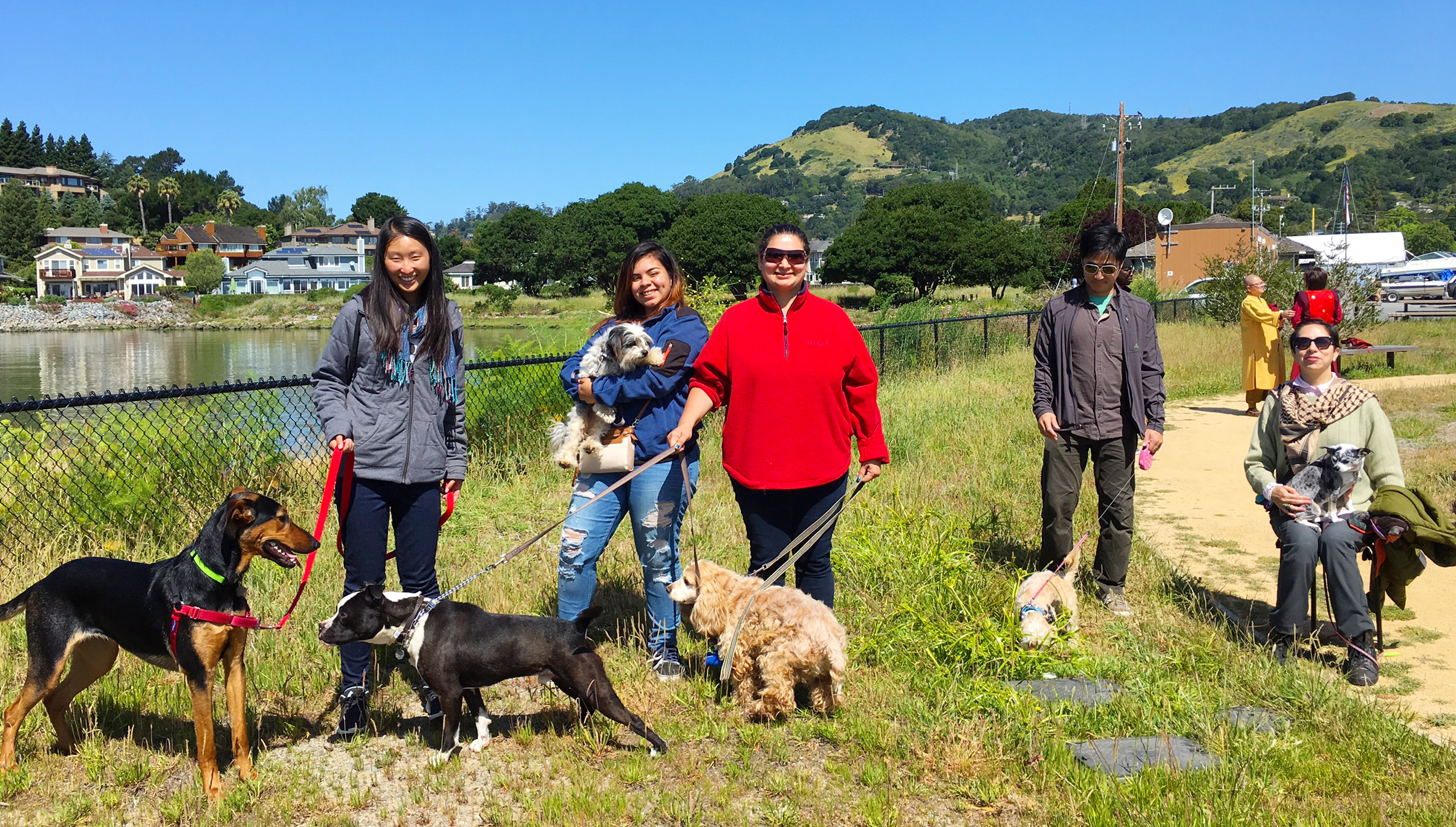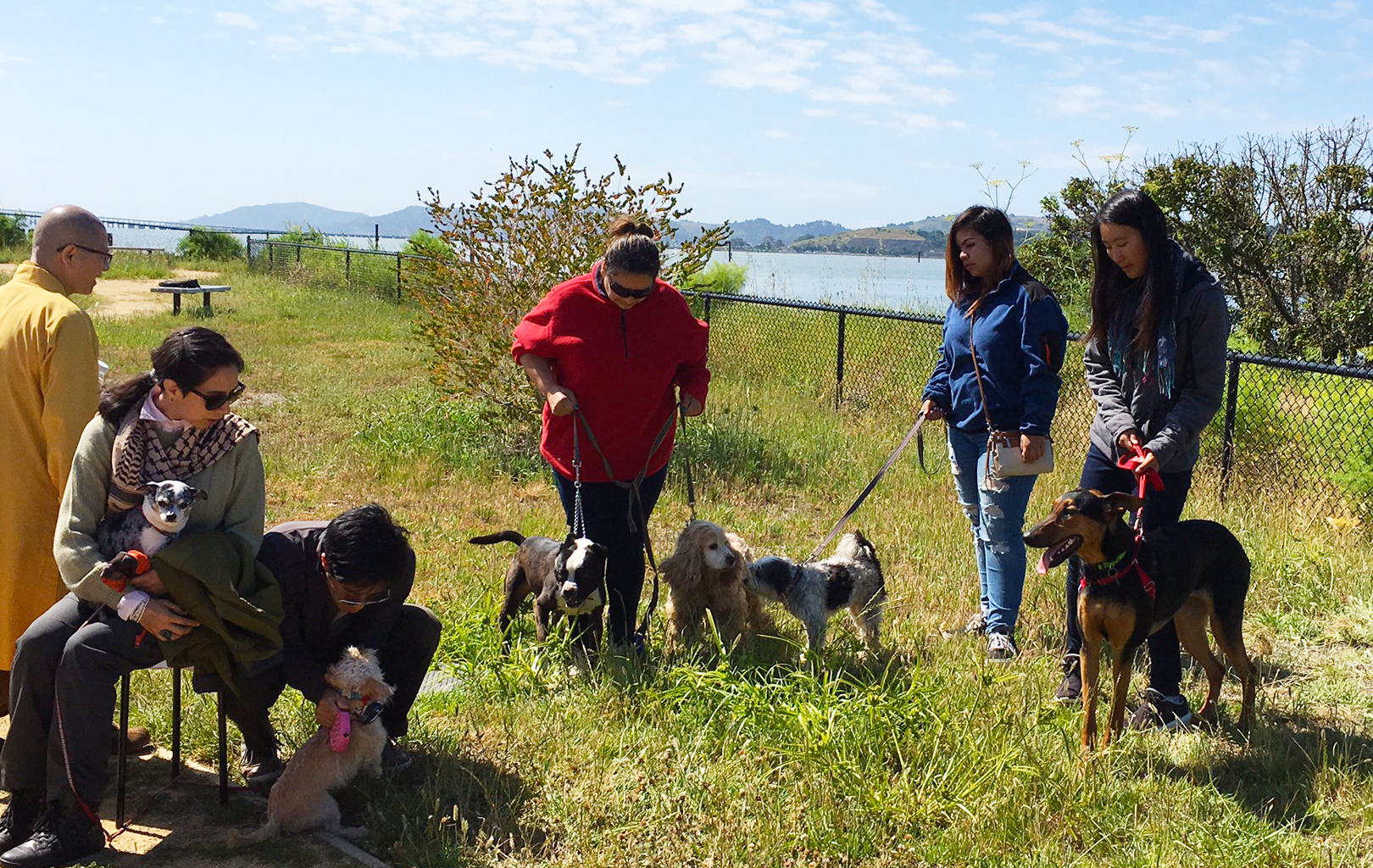 After the ceremony was complete, Pansy met the five other dogs and they were now Buddhist brothers and sisters. It was a beautiful day filled with a lot of happiness. All the monastics gave Pansy water to drink and pet her. I could tell Pansy was content and happy by the way her tail wagged and her trot around me. I want to give thanks to the sangha, the master, and the Buddha for allowing her to gui yi (taking refuge in Chinese). I hope in the future, Pansy can receive more blessings and have a chance to meet H.H. Dorje Chang Buddha III. In the future, my wish is for Pansy to reincarnate to the human realm to cultivate and study Buddhism to get out of the cycle of birth and death.
Amitabha
Regina Chang
Link: https://dharma-hhdorjechangbuddhaiii.org/my-dog-becomes-a-buddhist/
#HHDorjeChangBuddhaIII #DorjeChangBuddha #Buddha #Pet #Refuge #Buddhism #Buddhist #Dharma
(Visited 2,325 times, 1 visits today)