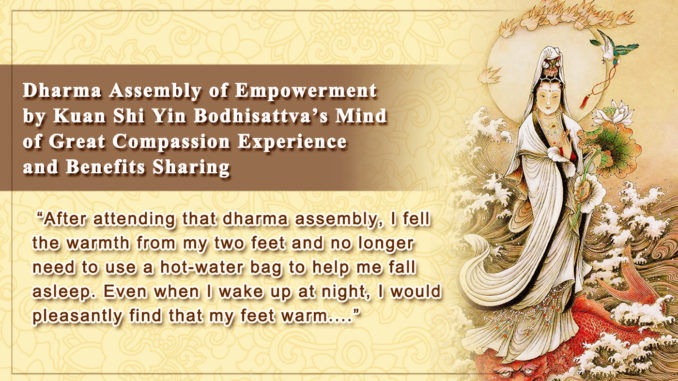 "After attending that dharma assembly, I fell the warmth from my two feet and no longer need to use a hot-water bag to help me fall asleep. Even when I wake up at night, I would pleasantly find that my feet warm…."
In September 2016, I had the good fortune to attend the Dharma Assembly of Empowerment by Kuan Shi Yin Bodhisattva's Great Compassion held at Hua Zang Si and received very magnificent benefits. I would like to take this opportunity to share my experience and feelings on that day with my fellow cultivators.
At the beginning of the dharma assembly, the presiding master told us to chant the mantra first. The rhythm of chanting was rather slow and the sound was very wonderful and beautiful. My feeling was completely different from my experience of the chanting I normally did.
After chanting for a short while, without knowing any reason, my father, my husband, and my two children suddenly appeared in my mind. The appearance of my father was especially clear. Sadness rose in me and tears streamed down through my face. I thought that they had not taken refuge in Buddhism and did not have the affinity to learn the true dharma of the Tathagata. That was the reason that I could not bear the sad feeling.
I stopped weeping and continue to chant. At that time, my grandparents from both my mother's side, who have passed away and my father's side as well as some other family members and relatives all appeared before my eyes. Though the view just flashed by me momentarily, I felt that I saw each of them clearly. I thought about the fact that some of them had not taken refuge while some others, though had taken refuge, were still not diligently making a good effort to learn and practice Buddha-dharma. Thinking that they would surely be in very miserable and lonely situations in the future, I could not suppress my sad mood and wept again.
Then I stopped weeping and continued to chant. Next, the faces of my father, husband, and children emerged before my eyes again. Every time I saw them, my heart was painfully pulled. I could not keep myself from weeping.
I once again stopped weeping and joined the chanting again. At this time, my ears clearly heard the voices of chanting the mantra from the crowd. However, my heart felt that I heard a voice of shouting for rescue. It sounded like a desperate yelling for help from someone who was completely surrounded by a situation of despair and horror. I had a very shocking feeling at the time. Clearly, this is the call for help from living beings, begging Buddhas and Bodhisattvas to rescue them! We are sincerely beseeching Buddhas and Bodhisattvas to save us and cross us over, to lead us to leave the abyss of pain and suffering in samsara forever! At this time, the sadness and bitterness in my heart were beyond description by words. Thus, I cried again with my face covered by tears.
After chanting the mantra, the dharma master announced that the dharma assembly would formally begin. I kept my body in a fixed posture and closed my eyes. I did my best to stay calm.
Very soon, the sound of patting came from behind. Also, people on my right side generated different kinds of sound. Someone before me was crying and fell to the ground. I sensed that she later moved to lie next to my feet (not sure whether she was actually lying down or not) and touched me a few times. I tried not to think about that. Shortly after that, she moved to behind me and started to pat the rear of my left foot and then my right foot. My right foot was hit with more power and more frequently. I dared not move myself at all and tried my best to keep my mind calm. However, I was still somewhat at a loss since I did not know what she might do to me next. When the patting stopped, I felt that she was still behind me. After a while, my right foot was again patted a few times. After that, she seemed to have left me. My eyes were always closed during this period. I dared not open my eyes.
My two arms felt more and more tired. I put my arms down twice and raised them again. After putting down my arms the last time, I felt that my neck began to rotate very slowly from right to left. After rotating two rounds, it went the opposite direction. At that time, I could not be sure whether this was an empowerment from Kuan Shi Yin Bodhisattva or a response made by myself due to being eager to receive empowerment.
Next, my both shoulders began to turn from the front to the back.
After that, I heard singing. I could not hear the words of singing clearly. At this time, my shoulders continued turning and the speed seemed to be faster.
Finally, I could hear clearly that the song was the Six Character Great Bright Mantra and "Namo Kuan Shi Yin Bodhisattva." I first followed the singing with humming and then joined with my open voice. At this time, the movement of my two hands became bigger. My hands were swinging back and forth and left and right, as if doing a stretching exercise. However, all movements were spontaneous and beyond my own control.
At this time, I heard a fellow sister behind me speaking loudly in Cantonese. She seemed to be saying that we have committed lots of sins and evil deeds in the past and therefore we now must repent earnestly and so on.
My hands continued swinging. I followed the singing and joined from time to time. At this time, my hand movement changed and turned into a movement of dancing. That was the hand gesture in a Chinese classic dance. I was dancing to the singing. My heart was filled with the joy of the dharma. With a smile on my face and while singing lightly, I made all kinds of wonderful movement with my hands (At least I felt that my hand movement was very wonderful.). Totally without any control, I felt that all movements were so smooth, fluent, and natural. Though my eyes were always closed, my mind was very clear and very much open. I was clearly aware what gestures and movements were performed by my hands. However, the dancing and moving of my hands was not directed by my own mind.
My two hands kept waving and moving. However, when the master leading the dharma practice called out "Stop!", my hands gradually moved to a position before my chest and stopped there.
After the perfect conclusion of the dharma assembly, the attending crowd went together to perform the ending practice of saving living beings from captivity. On the trip of driving back home, I unexpectedly noticed that my two feet were warm. This was something extraordinary to me. For quite a number of years, my two feet were rather cold. In particular, I must have a hot water bag prepared before going to bed. Otherwise I would not be able to fall asleep. Even if I went to sleep after having a hot bath or having my feet soaked in hot water, my feet would still be cold. Sometimes when I did not use a hot water bag, I would wake up at night with my feet being ice-cold. I could feel the chilly air from my bones and would even tremble. At that time, I had to have the hot-water bag ready immediately. After attending that dharma assembly, I fell the warmth from my two feet and no longer need to use a hot-water bag to help me fall asleep. Even when I wake up at night, I would pleasantly find that my feet warm.
I am grateful to the empowerment bestowed on me by the greatly loving and greatly compassionate Kuan Shi Yin Bodhisattva!
Additionally, I also had an unexpected discovery. The ankle joints in my two feet were no longer in pain. I could not remember since when my ankle joints started to ache, but it should have been for quite a while. I did not know what the cause was either. Normally, there was no pain if I do not touch them. However, it was very painful if the spot was pressed. Therefore, when I sat crossed legged to practice meditation, a towel or a blanket must be placed under my feet. Otherwise I would not be able to keep myself in a sitting position.
Yesterday evening, while chatting with my family members after dinner, I reached out to massage the ankle joints on my right foot as I used to do. I did not even feel any pain at all. I immediately pressed the ankle joints on my left foot and did not feel any pain either. I dared not believe that fact at the time and repeatedly pressed the spots many times. It was really true that I had no pain at all.
I once again express my gratitude to the greatly loving and greatly compassionate Kuan Shi Yin Bodhisattva!
This dharma assembly was very magnificent. The attending crowd were also empowered by Kuan Shi Yin Bodhisattva's great compassion and were full of the joy from the dharma. Had I not experienced the occasion in person, I absolutely would not be able to imagine the inconceivable feeling and benefits I had when the empowerment from Buddhas and Bodhisattvas came to me!
I gratefully prostrate to H.H. Dorje Chang Buddha III!
I gratefully prostrate to the greatly loving and greatly compassionate Kuan Shi Yin Bodhisattva!
I gratefully prostrate to all Buddhas and Bodhisattvas in the ten directions!
Disciple Huiyu Qiu
Link: https://dharma-hhdorjechangbuddhaiii.org/after-attending-that-dharma-assembly-i-fell-the-warmth-from-my-two-feet-and-no-longer-need-to-use-a-hot-water-bag-to-help-me-fall-asleep-even-when-i-wake-up-at-night-i-would-pleasantly-fin/
#HHDorjeChangBuddhaIII #DorjeChangBuddha #Buddha #Bodhisattva #Dharma  #Buddhism #Empowerment #Tathagatha #KuanShiYinBodhisattva #HuaZangSi #Chanting #Mantra #refuge
(Visited 1,317 times, 1 visits today)